Permaculture Picturehouse
Tuesday 6 May
doors open 6.45pm
How Love Works

This month we look at the importance of developing and maintaining healthy human relationships so that we might live rich and fulfilling lives.
Our human hearts are wired to thrive in loving and nourishing relationships. Neuroscience is now shedding light on what sustains a loving connection and what gets in the way of our best intentions to love well.
This talk will look at how meditative practices and an understanding of Neuroscience can support us to enrich and repair our relationships.
How we love, why we fight and how we can learn to find deeper satisfaction in our relationships with our intimate partners, our families, friends and people in our wider communities.
Philip Jones has spent 17 years studying Meditation within the dance of relationship and brings a passion to this theme with minimum jargon and maximum connection using slides and experiential opportunities
1st Tuesday of the month
Always at Passing Clouds, Hackney, 1 Richmond Rd, E8 4AA, Behind the Haggerston Pub.
Permaculture Picturehouse is London's regular permaculture social event – feature length and short films on subjects from the whole permaculture spectrum of interests, accompanied by talks from people involved in local and national projects. All night bar and delicious locally sourced vegetarian food.
For exactly the same info, but to check out the PPH swanky new website go to:)            www.permaculturepicturehouse.co.uk
May: Tuesday 3rd June – tbc
---
London Permablitzes
Meadway Garden
Saturday 19th April 2014 10am – 5pm
Meadway garden is a new plot that we will be developing into a Permaculture demonstration site. Come and join us on this Permablitz. The day will be spent tussling with a poly tunnel, banging together some raised beds, creating a herb spiral and concocting compost!
RSVP essential: if you want to come along you need to let us know so we know numbers and we can give you all the specific details. RSVP to info@permablitzlondon.com
Glengall Wharf Garden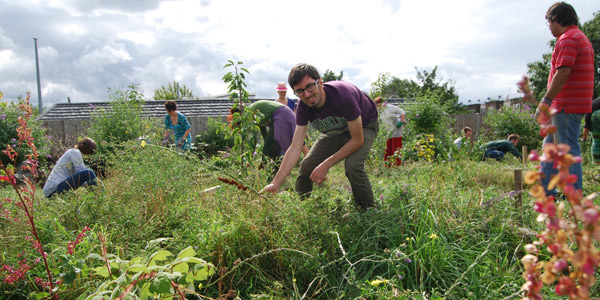 Sunday 4 May 2014 – 10am-5pm
Come and join us on this permablitz to establish a rainwater harvesting and irrigation system at Glengall Wharf Garden.This permablitz will be part of International Permaculture Day. RSVP essential: if you want to come along you need to let us know so we know numbers and we can give you all the specific details. RSVP to info@permablitzlondon.com
---
Calling all Permaculture Designers!
Permablitz London are looking for more volunteer designers. If you've completed a permaculture design course and want to get some real life design experience get in touch. We'd love to hear from you. Join our guild and help us give London gardens an edible makeover. Each permablitz implements a permaculture design. Generally we have 2-4 designers working on each blitz. We try to make sure at least one of those has done several designs. Sometimes a designer might work alone if they are keen and experienced. If you'd like to get involved contact Kayode at info@permablitzlondon.com.
For more details about permablitzing in London see the website: www.permablitzlondon.com
---
Permaculture Movie Night at Cafe Cairo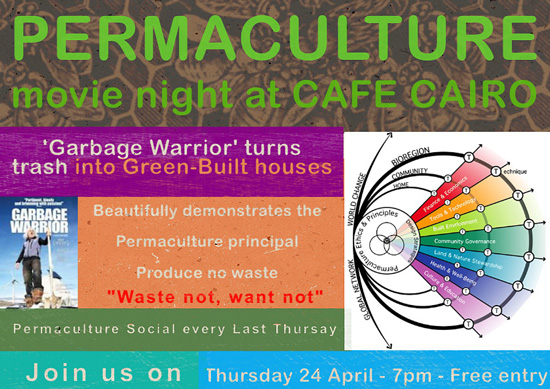 Thursday 24 April 7pm
Film: Garbage Warrior. Garbage Warrior turns trash into green-built homes.
88 Landor Road, London SW9 9PE
---
Seasons of soil permablitz with the Quadrangle Trust
Saturday April 26, 2014
Want to see permaculture design in action?
You can be part of a rapid solutions development on the ground using the principles of permaculture all in a day.
This is a free event hosted by the Quadrangle Trust and is our spring event in the programme – "Seasons of Soil" . Our focus for the day will be the themes of soil, compost and fertility. How we make best use of our time will be decided on the day. This is a community action and will be a fun and relaxed day out. There will be plenty of learning, opportunity to get physical and a chance to meet similar curious minds like yours.
ENQUIRIES CONTACT:
Kevin Mascarenhas -naturalflowdesign@gmail.com
www.naturalflow.biz
---
London Permaculture Festival
Sunday 6th July
This year's London Permaculture Festival is fast approaching. Anyone out there that can help make 2014 an even bigger success than before? We will be at Cecil Sharp House, Camden again on Sunday, 6th July. Could do with help with programming, publicity, and on the day itself. Get in touch if you can lend a hand: info@londonpermaculturefestival.com or go to www.londonpermaculturefestival.com.
---
International Permaculture Day
Sunday 4th May
Anyone want to help collate and coordinate London events for International Permaculture Day this year? We would like to use the day to make a concerted attempt to raise the profile of permaculture in the capital. This would be a 'dry run' for International Permaculture Day, 2015, which will launch events leading up to the International Permaculture Convergence to be held in Britain next year. Contact
info@londonpermaculture.com
---
International Permaculture Day
Sunday 4th May 11am-5pm
Permaculture Land Walk and Talk
11am-5pm
Starting from Rochester Square Community Garden and finishing at the Calthorpe Project on Grays Inn Road, visiting 2 LAND sites.
Organised by Leslie Coupland, phone: 07975 654962
Green Peppers Orchard and Forest Garden
We are a permaculture collective in Camden, London NW1. We get together to work and learn and share at the Orchard and the Forest garden. Everybody is welcome.
---
6-week Food Growing Course
starts Saturday 26th April
Carshalton Community Allotment, 33-35 Colston Avenue, Carshalton, Surrey, SM5 2PW
If you are just starting out, or would like to get some more detailed knowledge of food growing, then this course is for you. Over 6 weeks you will learn everything you need to know to confidently grow your own fruit and veg. Over the six weeks you will get hands on experience as well as theoretical knowledge and the support of an experienced tutor
More details: http://www.localfoodnetwork.org.uk/index.php/6-week-food-growing-course/
---
Creative Culinary Container Gardening
Sunday 27th April 2014
This workshop will take you through which vegetables are good container crops and how to get the most out of limited growing space. With an emphasis on attractive recycled containers, we will help you upcycle unwanted kitchen tins and utensils into thrifty, attractive planters for your garden. Windowsill and patio friendly – this workshop is suitable for people with or without garden space.
More info at http://www.localfoodnetwork.org.uk/index.php/creative-culinary-container-gardening-april-2014/
Carshalton Community Allotment, 33-35 Colston Avenue, Carshalton, Surrey, SM5 2PW
---
Spring into action! London PDC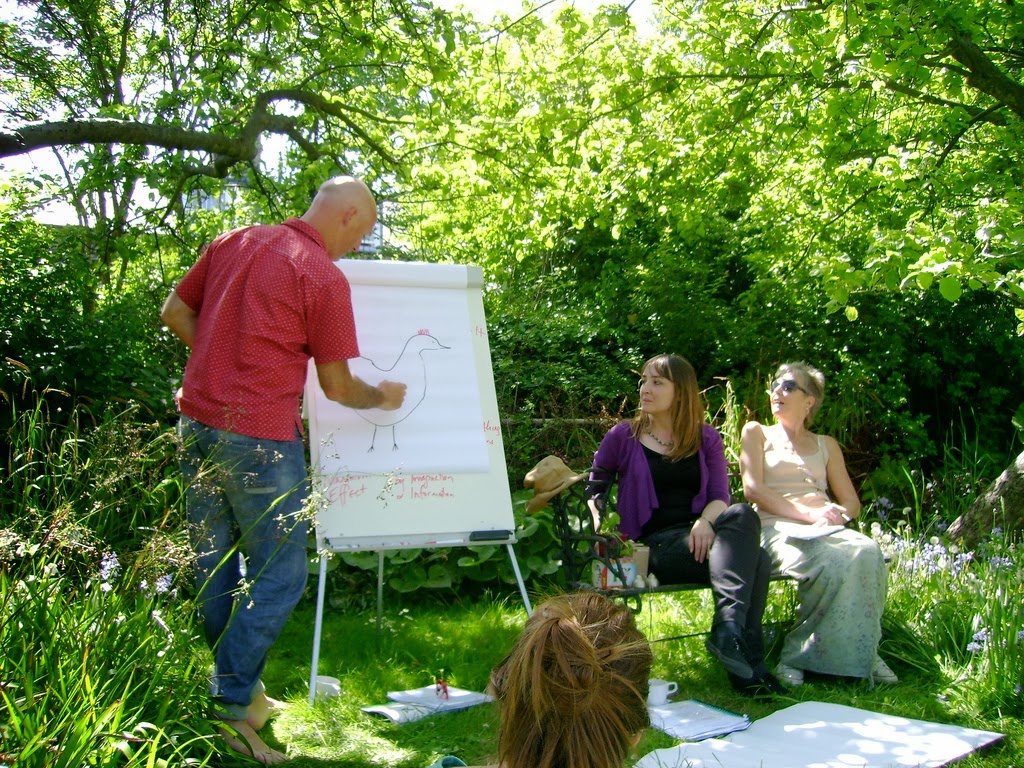 Spring into Action! is a accredited permaculture design course in North London, based at LAND learner site the Meadow Orchard Project in Crouch End. Six weekends, including 12/13 April and 26/27 April. The course is taught by Graham Burnett (Dip.perm.des), Claire White (Dip.perm.des), James Piers Taylor + a range of guest tutors. If you are interested in attending, find out more and book on the course at our website: http://springintoactionpdc.blogspot.com
If you have any other questions please contact Claire White at:
07899843061or clairewhitegardens@gmail.com
PDC in South London – creating resilient urban communities
This Permaculture Design Course is a 72-hour inspiring course, accredited by the UK Permaculture Association. Over the period of 13 weekend days we will explore practical and creative solutions for building resilient communities and designing abundant eco-systems. We will discover how we can work with, rather than against nature to fulfil our human needs whilst caring for the earth and the people.
Lead facilitator is Hedvig Murray from the Brighton Permaculture Trust. Co-facilitators are Lucy Hyde, Michel Thill, Duncan Law, and more.
Visit www.sociallandscapes.co.uk/event/pdc2014/ for more information or contact Michel Thill (michel@sociallandscapes.co.uk – 07901036220) to express interest.
Creating a Forest Garden
15 week course on Tuesdays
Forest gardens are a way of growing food in a low-maintenance, productive polyculture which makes the most efficient use of space and natural processes. Learn all about forest gardens and get a qualification on the way on this exciting new 15 week course!
Starts on Tuesday 4th March 2014 for 15 weeks (not on 8th, 15th or 28th May). The last date is Tue July 1st.
www.ediblelandscapeslondon.org.uk/CreatingAForestGarden, or or phone 07733 330 379 (during the day) for more info
---
'21st Century Permaculture' radio show

13th April – Adrian Kowal on Connecting with Nature
27th April – Nick Boyce on Permaculture in the Amazon
Listen live on www.ShoreditchRadio.co.uk
Listen to past shows at your leisure: www.MixCloud.com/21stCenturyPermaculture
---
Permaculture in Brighton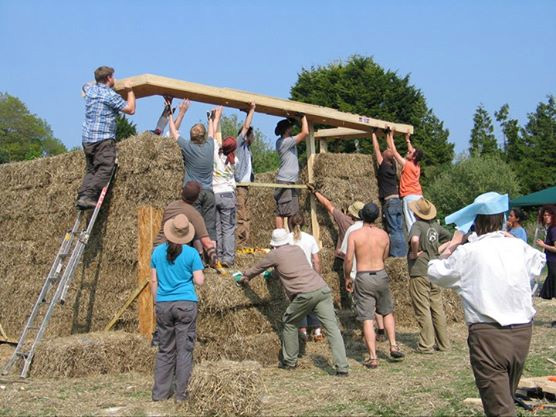 Brighton is busy this April – lots of events going on! We do like to be beside the seaside, joining Brighton Permaculture Trust – just a train ride away.
Building with Straw Bales
Fri 4 – Sun 6 April 2014
An intensive practical and theoretical building course, covering all basic skills needed to build with straw bales.   Course fee (depending on income): £145-£280.  Tutor: Ian Brown.  CPD CERTIFIED.  See website for full details.
Stanmer Park, Lewes Road, Brighton BN1 9PZ
Green Architecture Day Brighton 2014 with Satish Kumar
Saturday April 5, 2014 from 9:45am to 5pm
This year's theme is: Health and Buildings.
Green Architecture Day presents a comprehensive programme led by designers, practitioners and professionals. Sallis Benney Theatre, 58-67 Grand Parade, Brighton BN2 OJY
Self Building an Earthship
Fri April 11 to Sun April 13, 2014
This course is for anyone interested in learning about the construction of an Earthship. It includes practical workshops and aims to give a thorough understanding of the process.
Stanmer Park, Lewes Road, Brighton BN1 9PZ
Introduction to Permaculture
Sat. April 19th to Sun 20th April, 2014
This course introduces the basics of permaculture design and shows how this approach can be applied to individual circumstances to facilitate a move towards sustainability.
Tutors: Chloe Anthony, Tracy Hind, Hedvig Murray, Fran Pickering, Bryn Thomas.
Stanmer Park, Lewes Road, Brighton BN1 9PZ
Details of all courses on Brighton Permaculture Trust website
---
Open days & volunteering opportunities below
London Orchard Project – Londonwide
There are loads of events happening each month that you can help out with, check out their website for up-to-date info: http://thelondonorchardproject.org
Edible Landscapes Finsbury Park N4
Volunteers can turn up on any of our regular days – Mondays and Fridays, 10-3 – and receive informal training – no experience necessary – just turn up – all welcome – shared lunch at 1pm.
www.ediblelandscapeslondon.org.uk
FOOD from the SKY
Tuesdays: 10am to 1pm
Saturdays(1st of the month): 12noon to 4pm
Crouch End, N8 http://foodfromthesky.org.uk
The Meadow Orchard
Every Saturday 11-4pm
Crouch End, N8, workday to care for the site, garden, orchard and wildlife meadow.
Eco-building every Friday 10.30am-5pm
Variable depending on leaders availability so check website www.meadoworchard.org
have regular volunteer sessions every Sunday 1-3pm
March 23rd - Planting the Forest Garden 11 – 3pm. Bring something to share for lunch
www.burgessparkfoodproject.wordpress.com
If your project would like to advertise it's Open Days or Volunteer Days – just email us.